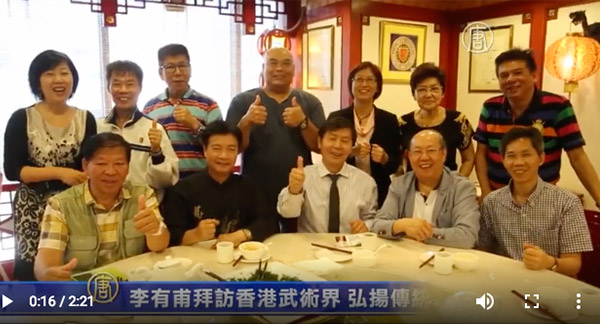 Hong Kong Wushu community praised the NTDTV for promoting traditional martial arts
Posted by web master in Martial Arts, RelateNews_2016
06
Apr
2019
[NTDTV, June 10, 2016]
The NTDTV International Martial Arts Competition held in the Asia-Pacific region was just over. The chairman of the jury and the Wushu master Li Youfu went to Hong Kong to meet the martial arts community. Many Wushu masters expressed their gratitude to the NTDTV for hosting the competition and promoting traditional martial arts.
Through Li Youfu's visit, it is rare for Hong Kong martial arts masters to gather together to hold a dinner party. For the NTDTV to hold a competition to promote traditional martial arts, especially the emphasis on Wude and personal cultivation, Hong Kong martial arts masters are deeply moved, and also see the hope and future development of traditional Wushu rejuvenation.
Hu Deguang, a famous teacher of Baimei, said: "Wude was passed on to us by the predecessors. We must understand that this is a treasure. If it is developed and promoted with your TV station, it will be even better."
Xiong Li, head of the Xiong Li Wushu Dance Troupe: "Traditional Wushu have not done enough in promotion. Nowadays, mainly new martial arts are popular. But traditional martial arts is the foundation of Chinese traditional culture."
People who do not usually love publicity
The wushu master who do not usually love publicity, also performed their own martial art on the spot, looking forward to the grand event, and also called on the Hong Kong players to participate actively.
Yang Yiming, a famous teacher of Yongchun Quan: "We really want to practice martial arts. We talk about "If you practice fists without practice gong, you practice for a lifetime without gaining anything. If you practice gong without practice qi, you won't have an achievement until old age." The spirit of the people who promote martial arts is worthy of admiration. Anyway, we I hope that the competition will carry forward the martial arts and deserve our respect. The most important thing for martial arts is Wude."
Long Xing Quan master Huang Yaoqiu: "Good communication, I have gained a lot of experience, because many seniors are here. I think that if there are more such activities in the wushu world, the traditional wushu will be carried forward."
Xiong Li, head of the Xiong Li Wushu Dance Troupe: "I feel that NTDTV is doing a very important thing in maintaining Chinese traditional culture and doing very well. We must support the work of NTDTV. If there is an opportunity for us to participate, everyone must go to the competition!"
The International Chinese Martial Arts Competition entered the fifth year this year. At the beginning of this month, in the Asia-Pacific region of Taiwan, a total of 51 players were selected. They will gather in New York to participate in the finals on September 17 to discuss martial arts.
NTD reporter Liang Zhen Hong Kong reports