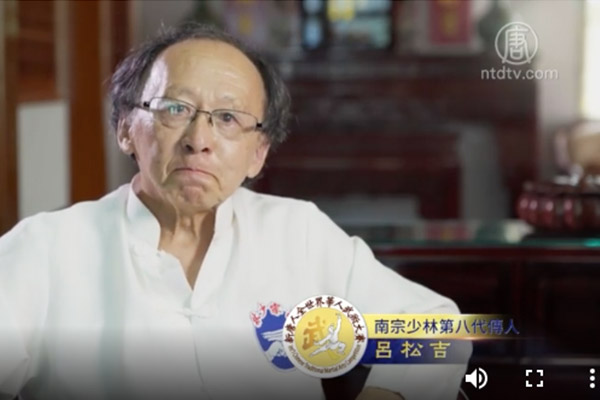 Eighth Generation Nanzong Shaolin Successor – Lu Songji
Posted by web master in Martial Arts, RelateNews_2016
02
May
2019
NTD Television International Chinese Martial Arts Competition: Eighth
Generation Nanzong Shaolin Successor – Lu Songji
 
NTD Television, August 16, 2016––NTD Television's 5th International Chinese
Martial Arts Competition in 2016 is seeking out and reviving the traditional martial
arts practice methods.
Passing down tradition, martial arts are considered the Dao, and virtue is first. Many
different schools' highly skilled martial artists come together to again reveal the
essence of martial arts.
[Lu Songji, Eighth Generation Descendant of the Shaolin School in the South]:
"I am Lu Songji, eighth generation of the Shaolin folk school in the south.
Fortunately, NTD Television is contributing in this way– it's truly very good. Chinese
martial arts culture pays attention to the spiritual level. This is just like what your
platform is developing and rousing, very good."
NTD Television International Chinese Martial Arts Competition
2016 Preliminaries:
Taiwan, June 4, 2016,
New York, September 17, 2016
2016 Finals: New York, September 18, 2016
Location of New York competition: 47 Academy Avenue, Middletown, NY 10940